Irish Language Broadcast Fund Supports Local Production Companies with Funding for Diverse Projects 
---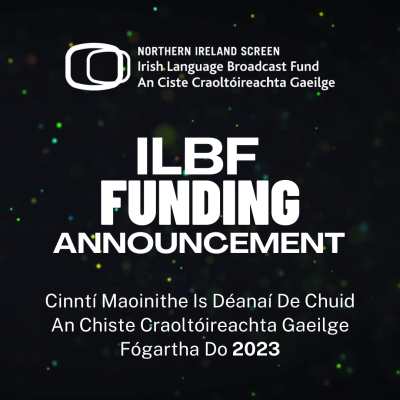 Date Posted: November 21, 2023
Northern Ireland Screen's Irish Language Broadcast Fund (ILBF) is delighted to announce its latest funding decisions for 2023. Funding was awarded across a wide genre of content with a total of 18 projects receiving funding. The aims of the ILBF are to promote the production and broadcast of quality Irish language content for an audience in Northern Ireland and beyond and to help grow the local Irish language production sector. 
Production companies who received funding include:  
Below the Radar –

Sléibhte –

A

n international co-production series for TG4, BBC Alba and S4C which will climb the heights to discover formidable but fragile mountain communities from Ireland to Iceland, Scotland to Japan, Wales to the USA amongst other beautiful locations.

 

Waddell Media – Caoimhe Ní Chathail and Proinsias Ó Coinn will return to our screens for a third series of

Éadaí SOS

 for BBC Northern Ireland and TG4 where shopping-obsessed fashionistas will again be challenged to alter their habits and embrace more eco-friendly ways of indulging their passion for the latest trends.

 

Strident Media –

Saol na Feirme

returns for its second series to capture the highs and lows of a year with several Irish farming families.

 

Triplevision & Little Ease Films

– An Mhianach Óir

, a feature documentary for TG4 will question how

a new gold mine in the Sperrin Mountains brings the promise of great wealth, but at what cost?

 

Ronin Films –

M'Ainm Mo Scéal

returns for a second series on TG4 where children will once again explore the stories connected to their first names.

 

Dearcán Media will produce an authentic animated Irish language account of the classic text,

Táin Bó Cúailnge

for TG4 and BBC Gaeilge.

 

Macha Media –

Gioraíonn Beirt Bóthar

, a three-part series produced for BBC NI will see two presenters take to the roads to walk the ancient way from Dundalk to Armagh, meeting local characters and musicians on the way.

 

Pounce Pictures –

Dancemaster

, an hour long documentary for RTÉ on the dancer Breandán de Gallaí as he prepares to stage a new dance show.

 

 

Raidió Fáilte

 has also been awarded funding to continue their successful training and broadcasting scheme for the 12

th

 year running.

 
The ILBF has been supporting local talent for over 19 years with previous projects funded by the scheme including Imagine Media's An Buachaill Gealgháireach that recently picked up another two awards to add to their list of achievements: International Documentary award at the Chania Film Festival and an Honorary Distinction at the Agean Documentary Festival; Macha Media's Díolta Faoina Luach which recently won Television Programme of the Year at the Oireachtas Communication Awards and Doubleband's Doineann which won best drama at the RTS NI awards in June 2023. 
Below the Radar, one of the bodies awarded funding, said;
'We are delighted here at Below the Radar to have secured funding in this ILBF round for projects with all three broadcasters – RTÉ, BBC Gaeilge and TG4. The continued backing and support from the ILBF to independent production companies here in the north is key to the quality and success of Irish language content being made here. And the continued support also helps us as a company develop and grow Irish language speaking staff in many different production roles.'
To find out more about the ILBF visit Irish Language Broadcast Fund – Northern Ireland Screen 
_________________________________________________________________
CINNTÍ MAOINITHE IS DÉANAÍ DE CHUID AN CHISTE CRAOLTÓIREACHTA GAEILGE FÓGARTHA DO 2023
Is mian leis an Chiste Craoltóireachta Gaeilge (CCG), Scáileán Thuaisceart Éireann a chinntí maoinithe is déanaí do 2023 a fhógairt. Bronnadh maoiniú ar 18 tionscadal ar fad ina bhfuil éagsúlacht bhreá seánraí teilifíse. Is é a chuireann an CCG roimhe, maoiniú a chur ar fáil le hábhar Gaeilge ar ardchaighdeán a léiriú agus a chraoladh do lucht féachana i dTuaisceart Éireann agus níos faide i gcéin agus lena chinntiú go gcuirfear fás faoin earnáil léiriúcháin Ghaeilge i dTuaisceart na hÉireann.
Áirítear leis na comhlachtaí léiriúcháin a fuair maoiniú:
Below the Radar – Sléibhte – Sraith chomhléirithe do TG4, BBC Alba agus S4C ina rachfar amach chun na gcnoc le teacht ar phobail dhaingne ach leochaileacha shléibhe ó Éirinn chun na hÍoslainne, Albain chun na Seapáine, An Bhreatain Bheag go SAM agus in áiteanna áille eile.
Waddell Media – Beidh Caoimhe Ní Chathail agus Proinsias Ó Coinn ar ais ar ár scáileáin sa tríú sraith de Éadaí SOS do BBC Thuaisceart Éireann agus TG4. Tabharfar dúshlán andúiligh fhaiseanta shiopadóireachta a gcuid nósanna a athrú agus glacadh le dóigheanna nach ndéanann dochar don timpeallacht le dul i gceann a bpaisin don fhaisean.
Strident Media – Beidh Saol na Feirme ar ais don dara sraith ag leanstan an thuas seal, thíos seal, ó cheann ceann na bliana a bhíonn ag a lán teaghlaigh feirmeoireachta in Éirinn.

Triplevision &

Little Ease Films – An Mhianach Óir, gnéchlár faisnéise do TG4 ina gceisteofar mar a d'fhéadfadh mianach óir úr i Sliabh Speirín an-chuid saibhris a thabhairt isteach sa cheantar. Ach cad é an costas a bheadh leis?
Ronin Films – Beidh M'Ainm Mo Scéal ar ais don dara sraith ar TG4 agus arís beidh páistí ag fiosrú na scéalta a bhaineann lena gcéadainmneacha.
Léireoidh Dearcán Media leagan fíor beochana Gaeilge den téacs clasaiceach Táin Bó Cúailnge do TG4 agus BBC Gaeilge.
Macha Media – Giorraíonn Beirt Bóthar, sraith trí chlár á léiriú do BBC TÉ, ina mbuailfidh beirt láithreoirí bóthar leis an seanbhealach ó Dhún Dealgan go hArd Mhacha a shiúl, agus iad ag bualadh le daoine suimiúla agus ceoltóirí de bhunadh an cheantair i rith an bhealaigh.
Pounce Pictures – Dancemaster, clár faisnéise uair an chloig do RTÉ ar Bhreandán de Gallaí, an damhsóir iomráiteach, agus é ag déanamh réidh le seó úr damhsa a chur ar an ardán.
Tá maoiniú bronnta ar Raidió Fáilte le leanúint dá scéim rathúil oiliúna agus chraoltóireachta don 12ú  bliain i ndiaidh a chéile.
Tá an CCG ag tacú leis an earnáil ó Thuaidh le breis agus 19 mbliana agus áirítear le tionscadail ar thug an scéim maoiniú dóibh roimhe seo An Buachaill Gealgháireach de chuid Imagine Media ar bronnadh dhá ghradam eile orthu ar na mallaibh: An Gradam Clár Faisnéise Idirnáisiúnta ag Féile Scannáníochta Chania agus Ardmholadh Oineach ag Féile Clár Faisnéise Aegean; Bronnadh Clár Teilifíse na Bliana ar Díolta Faoina Luach de chuid Macha Media ag Gradaim Chumarsáide an Oireachtais i mbliana agus ghnóthaigh Doineann de chuid Doubleband gradam an dráma is fearr ag Gradaim RTS TÉ i Meitheamh 2023.
Is iad Below the Radar ceann de na comhlachtaí a bhronntar maoiniú orthu agus dúirt siad;
'Tá an-lúcháir orainn anseo ag Below the Radar go bhfuair muid maoiniú i mbabhta seo CCG leis na trí chraoltóir uile – RTÉ, BBC Gaeilge agus TG4. Is de chroí an scéil tacaíocht leanúnach ón CCG do chomhlachtaí neamhspleácha léiriúcháin ó thaobh chaighdeán agus rath an ábhair Ghaeilge atá á chruthú anseo sa tuaisceart. Lena chois sin, is cuidiú é fosta an tacaíocht leanúnach dúinne mar chomhlacht le baill foirne a bhfuil Gaeilge acu a fhorbhairt agus a fhás ina lán róil éagsúla léiriúcháin.'
Tá tuilleadh eolais ar an CCG ar fáil ag Irish Language Broadcast Fund – Northern Ireland Screen