Ulster-Scots series Mahon's Way returns to UTV
---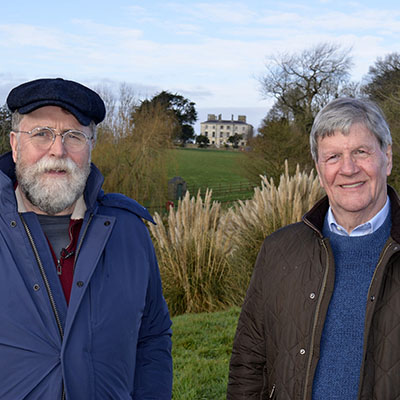 Date Posted: August 3, 2023
Joe Mahon returns to UTV on Tuesday 8th August at 8:30pm with Mahon's Way for another series in which he will travel the length and breadth of Northern Ireland (and sometimes a wee bit further), exploring the heritage, history and culture which make this place so unique. The series was produced by Westway Film Productions with support from Northern Ireland Screen's Ulster-Scots Broadcast Fund.
Joe has spent most of the last year exploring the local countryside and this 12-part series will take the viewer on a fabulous journey of discovery. The series has everything – ancient townlands, castles and stately homes; stories of trailblazing people who helped shape so many places on these shores, and often further afield; flora and fauna of rivers, lakes and forests; and history and stories behind poetry and songs, and art.
From Cullybackey, to Clogher to Cloghan in Co Donegal, Joe has travelled far and wide to bring to the fore the perhaps lesser-known spaces and places, people and history to the brand new series of Mahon's Way.
In the first episode Joe finds himself on the western shore of Strangford Lough, near Killinchy, where he visits 'Ballydorn' a floating clubhouse which used to be the last lightship stationed on Irish waters. He then moves on to Florida Manor, where a hugely ambitious restoration project is underway. And in the beautifully appointed Livingston Centre in the parish of Killinchy and Kilmood, Joe shares the fascinating tale of the 'Eagle Wing', Ireland's version of the Mayflower, and also finds out how many famous Americans throughout history can be linked back to the parish.
Joe commented, "I can promise the viewer an enlightening, engaging and visually arresting experience, with help from the wide range of local residents, story-tellers, scholars and experts that we have met along the way."
Mahon's Way is part funded by the Ulster Scots Broadcast Fund and Heidi McAlpin, Ulster-Scots Broadcast Fund Executive at Northern Ireland Screen said, "Joe and the team on Mahon's Way never fail to unveil illuminating and engaging Ulster-Scots connections as they continue their journey across Northern Ireland. Each person encountered and story shared is further enhanced by Joe's beautiful words and easy rapport. The Ulster-Scots Broadcast Fund is delighted to play a part in bringing it to the UTV audience."
UTV's Programmes Editor Tony Curry commented, "We are very excited about this new series. Joe has been the front man for many and varied series for UTV over the years, and our audiences love his easy relaxed style, as he explores Northern Ireland's rich heritage and the people and places along the way.  This 'Mahon's Way' is sure to entertain and delight the viewers and I can guarantee they'll learn something new in the process."
Mahon's Way is sponsored by Firmus Energy. Viewers can watch the first episode on Tuesday 8th August at 8.30pm on UTV and on catch up on www.itv.com/utvprogrammes.