The Woven Word
---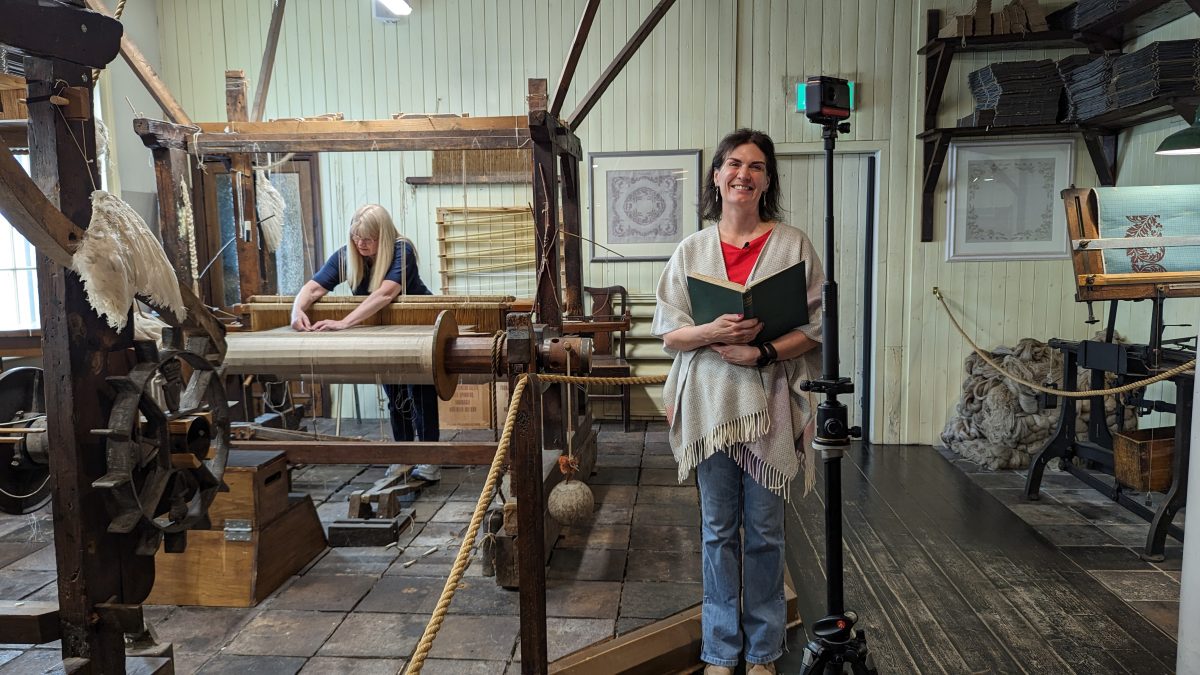 Date Posted: October 23, 2023
THE WOVEN WORD: A NEW 360° VIDEO SERIES EXPLORES THE ULSTER-SCOTS RHYMING WEAVER POETS
Produced by Virtual Visit in partnership with Hidden Ulster Tours and with funding from Northern Ireland Screen's Ulster-Scots Broadcast Fund, the series of ten short episodes provides an interactive VR (Virtual Reality) experience immersing viewers in the world of Ulster's Rhyming Weavers – Ulster-Scots poets who flourished over the last few centuries.
Presented by local historian and tour guide Lolly Spence, the series is filmed across various locations around Ulster. In each episode, viewers will get to learn about a particular poet, hear and read one of their poems being read in Ulster-Scots, while 'virtually' standing in the real-world location where the poem was written or is about, and discover a little history about the place and its connection to the poet and poem.
The entire series is filmed in 360° video, meaning that you can turn and look around you in all directions, using your mouse or, for a truly immersive experience, a VR headset. All ten episodes can be accessed at discoverulsterscots.com.
Presenter of the series and owner of Hidden Ulster Tours, Lolly Spence said:
"As a professional tour guide, historian and lover of poetry I've enjoyed this opportunity to talk about some of the poets, poems and places of particular note from the time of Ulster's Rhyming Weaver poets. Presenting the series through the medium of 360° VR video is quite special. It feels more connected and engaging than traditional video and I love the idea that viewers from anywhere in the world can look around with me… as if standing with me, as I share stories of our Ulster-Scots heritage."
Producer of the series and managing director of Virtual Visit, Thomas McVea said:
"The entire series is filmed and broadcast in 360°. This innovative new medium is transportive, giving the viewer an experience akin to actually being there. Immersive in nature, 360° VR (Virtual Reality) video gives power to the viewer and makes them feel part of the story, placing them inside the experience while encouraging exploration outside the traditional 2D frame. If they have access to one, I would encourage viewers to don a VR headset for a full immersive experience. We are proud to have worked with Hidden Ulster Tours on this series and grateful to Northern Ireland Screen's Ulster-Scots Broadcast Fund for lending their support."
Heidi McAlpin, Ulster-Scots Broadcast Fund Executive at Northern Ireland Screen, said:
"Thomas and Lolly have created an Ulster-Scots poetry resource that will transport viewers from around the world to places such as Slemish, Scrabo Tower and the Irish Linen Centre & Lisburn Museum, bringing to life the words of Rhyming Weavers including James Orr, Sarah Leech and David Herbison. The Ulster-Scots Broadcast Fund is delighted to have supported this unique Virtual Reality digital project."