The Last Rifleman
---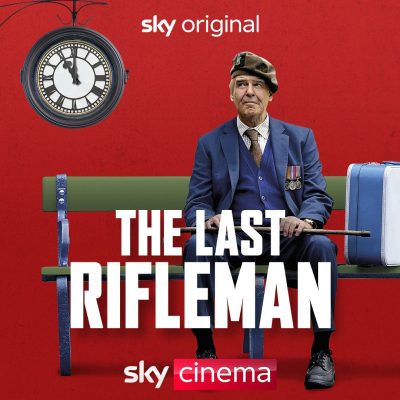 Date Posted: November 7, 2023
THE LAST RIFLEMAN, a drama starring Pierce Brosnan and directed by Terry Loane (Mickybo and Me) filmed on location in Northern Ireland will screen at the Belfast Film Festival on Thursday 9th November and is now available to stream on Sky Cinema and NOW. 
Inspired by true events, THE LAST RIFLEMAN is a moving and heartfelt drama that follows Artie Crawford, a World War II veteran living in a care home in Northern Ireland who has just lost his wife. On the 75th anniversary of the D-Day landings in Normandy, Artie decides to secretly escape his care home and embarks on an arduous but inspirational journey to France, to pay his final respects to his best friend and find the courage to face the ghosts of his past. 
The story is inspired by World War II veteran Bernard Jordan who, at 89 years-old, sneaked out of his care home in East Sussex, boarded a bus to Portsmouth, got on a ferry to France and made his way to Normandy for the 70th anniversary commemorations of the D-Day landings in June 2014. 
Developed with funding from Northern Ireland Screen, the film was written by Kevin Fitzpatrick and is produced by Katy Jackson and John Leslie from Wee Buns (Zoo, Bad Day for the Cut, The Devil's Doorway). It is co-produced by Jacqueline Kerrin and Dominic Wright from Ripple World Pictures (Never Grow Old, Wisting, Zoo). Academy Award nominee Mark Huffam (Mamma Mia!, The Martian, Prometheus, Alien: Covenant), Kevin Jackson (Zoo, The Truth Commissioner), Nick Leese, Eloise Singer (Rare Beasts) and Tommy Curran are executive producing. 
Crew members include Academy Award-winning composer Stephen Warbeck (Shakespeare in Love, Billy Elliot) and make-up designer Clare Ramsey (The Hobbit trilogy, 300: Rise of an Empire, Quantum of Solace). 
Kevin Fitzpatrick's script for THE LAST RIFELMAN was supported by Northern Ireland Screen's New Writer Focus scheme, a script development scheme open to Northern Ireland writers new to feature film and long-form drama. Kevin's script was support through a development process featuring writers' rooms, individual project and writer development, development seminars and networking opportunities. 
To book tickets for the Gala screening of the THE LAST RIFLEMAN at the Belfast Film Festival visit What's On – Belfast Film Festival 
To find out more about the New Writer Focus scheme visit Northern Ireland Screen launches call for scripts for its New Writer Focus Scheme – Northern Ireland Screen