Stars showcase new NI comedy writers in Halloween themed short films
---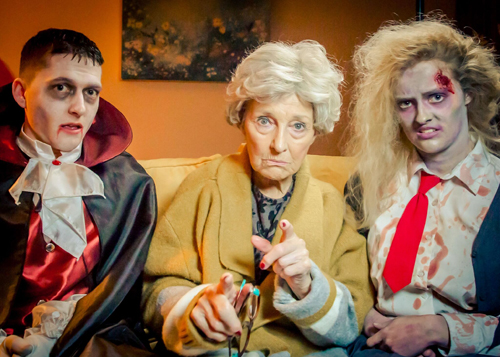 Date Posted: October 13, 2017
Some of Ireland's best known actors and comedians are giving up-and-coming comedy writers a boost by starring in Fright Shorts, a new film showcase to develop new Northern Irish talent.
Jason Byrne, Bronagh Waugh, Dan Gordon, Tara-Lynne O'Neill, Roma Tomelty, Stella McCusker and Shane Todd are just some of the famous faces appearing in six, comedy/horror short films scripted by brand new writers, which will be available to watch on the BBC iPlayer from Friday 13th October.
Fright Shorts came about when BBC Writersroom in Belfast, working alongside BBC Comedy, BBC Northern Ireland and Northern Ireland Screen, put out an open call for "funny, scary five-minute short film scripts for Hallowe'en". The shorts were produced with funding from the Arts Council of Northern Ireland and Northern Ireland Screen.
Six were chosen from hundreds of applicants and the brand new writers were then developed by BBC Writersroom, with script editing support from Jeremy Dyson (League of Gentlemen, Psychoville).
The winning writers are: Stephen Large from Dundonald, Co Down, Peter Gray  from Ballycastle, Co Antrim, Michael McCullough from Omagh, Co Tyrone, Martha Barnett from Holywood, Co Down, Mary Flanigan from Belfast and Dave Kinghan from Bangor, Co Down.
Belfast based start-up, Nice One Productions, working in partnership with Retort (part of FremantleMedia UK), won the tender to produce the films, which were directed by George Kane (Timewasters, Crashing, Newzoids).
What started as a way of nurturing comedy writing talent grew into a series of beautifully-crafted and ambitiously-cast films.
The six new writers will now not only have their first BBC credit but also their films broadcast on iPlayer with an audience of potentially millions.
BBC Northern Ireland Executive Producer Shane Glynn said: "Fright Shorts has been a really rewarding collaboration to be part of. At BBC NI we are always striving to unearth the next generation of talent, and the sheer volume of scripts we received was amazing.
"I hope the audience enjoys these debut shorts from writers I'm sure we're going to hear a lot more from in the future."
Executive Producer for BBC Writersroom Belfast, Keith Martin, said: "Northern Ireland is bursting with writing talent. Telling funny stories is in our DNA and BBC Writersroom exists to help find and develop these writers across comedy and drama."
Richard Williams, CEO, Northern Ireland Screen, said: "Northern Ireland Screen continues to focus on developing screen industry careers by engaging with our indigenous talent base and facilitating growth.  We are delighted to be part of this collaborative process which brings new Northern Ireland voices to the screen and to a whole new audience on BBC iPlayer."
Nice One Productions founder, Chris Jones, added: "I'm overjoyed that Fright Shorts is our very first new Irish comedy commission and hope comedy-horror fans all over the UK will enjoy binge-watching on the BBC iPlayer – six sparky and distinctive scripts, it's a proper Hallowe'en treat, bursting to life with such a funny cast, a visionary director and the hardest-working crew in Northern Ireland."
Fright Shorts are available to view on BBC iPlayer from Friday 13th October.