BFI SCREEN Skills Cluster Training Sessions
---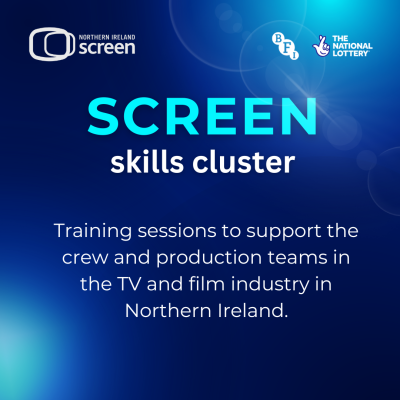 Date Posted: November 8, 2023
Check out the current BFI SCREEN Skills Cluster Training Sessions available to you.
Applications are particularly welcome from those who are returning to the industry (after a minimum of 1 years' absence), those with caring responsibilities, under-represented groups, including, but not limited to those from minority ethnic backgrounds; people with a disability; people from the LGBTQ+ community and those from lower socio-economic backgrounds.
2 Day course in Self-Shooting for TV and digital media
Course Tutor: Vincent Kinnaird
This short training course is aimed at industry returners in NI and those needing a refresh on camera equipment and methodology.
 Participants should have at least one credit or relevant experience with self-shooting and have had at least 1 year's industry experience.
As the course will touch on advanced techniques and scenarios – preferred level of existing competence is intermediate
 It is intended that the primary camera used for tutoring will be Sony branded, however other industry standard cameras may be used and will be referenced
Course Structure
The participants will complete a total of 2 full days' training and must be available for
one practical day; in November/December 2023.
one industry masterclass day on Wed 13th December 2023 (proposed date)
With guest speakers, case studies and technique masterclasses from network TV self-shooters.
Dates will be confirmed to all 8 participants following  confirmation of acceptance onto the course.
How to apply
Applications for this course are now closed. 
Advanced Leadership Training
Course Tutor: Addie Orfila Training and Almaison Producers
This is a specifically designed programme of advanced leadership and management skills for practical support to leaders working in the Screen Industries. It is intended to be a follow on from ScreenSkills Leadership and Management programmes or their online 'Work Well' series. This programme is not about how you do your work, but how you work with others and provide support.
Course Structure
The Advanced Leadership Training is a modularised programme of development of 5 x 3hour sessions, with each session looking at key areas of need or aspect of leadership.
The modules may include dealing with conflict, understanding HR functions and Duty of Care, work towards DDI compliance.
The process of application will also inform the module development, and expressions of interest will be used to shape the delivery through an initial questionnaire to understand key challenges currently faced by leaders and managers in the sector.
After the training, there will be one to one coaching and mentoring sessions for participants to help embed the learning and give additional support.
We aim to be flexible with delivery to support those with care responsibilities, work commitments and other issues that may prevent engagement.
How to apply
To express and interest– please email fill in this form:  Expression of Interest (google.com)
Freelance Wellbeing Facilitator Training 
Course Tutor: 6ftfrom 
6ftfrom are training 3 Freelance Wellbeing Facilitators based in Northern Ireland.
They are looking for 3 individuals who are:
·      Passionate about mental health and wellbeing.
·      Want equal, positive workplaces.
·      Experienced in Northern Ireland's screen sector.
Course Structure
Between January and March 2024, they will be selecting three applicants for participation in 6ftfrom's's deep-dive, 11-module training programme on mental health and wellbeing. This is an amazing opportunity for individuals who want to contribute to creating a healthy, inclusive, and happier workforce for the screen sector.
We particularly welcome applications from those returning to the industry after a career break, those with caring responsibilities and under-represented groups, including, but not limited to those from Global Majority backgrounds; people with a disability; people from the LGBTQ+ community and those from lower socio-economic backgrounds.
How to apply
To apply – simply contact [email protected] to request an application pack!
Applications close 1 December. 
Production Research Skills
Course Tutor: Pam Relton
Do you want to be the best you can at production research?  Able to hit any programme running with a set of essential TV and production research skills?
This course for aspiring and existing researchers will teach you all the key skills needed to be a first-rate researcher, working on both scripted and unscripted programmes. It also for runners and aspiring TV/digital researchers, current researchers who want to validate and extend their skills, production co-ordinators, production assistants, and anyone currently working in the TV industry who wants to acquire professional production research skills.
Course Structure
Throughout the course, we will delve into a range of skills including:
How to spot and tell a good story
Widening your sources of information
Finding and casting contributors
Writing proposals and research briefs
Hot internet research tips
Accuracy and record keeping
How to generate ideas
A not-so-heavy dose of editorial and legal compliance. 
Pam Relton is an experienced media trainer, specialising in creativity and TV researcher courses.  Her clients include ITV, ScreenSkills and leading independent TV companies such as IMG and Freemantle.
She is an experienced broadcast journalist who loves researching stories and has worked on a wide range of output including documentaries, features and consumer programmes.
How to apply: 
For an application form, please apply direct to Pam Relton at [email protected].