Sensum & Red Bull Media House announce release of The Hero Feeling
---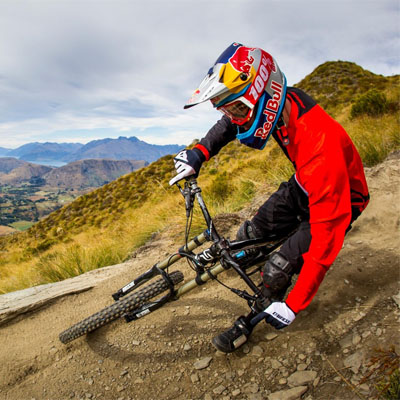 Date Posted: September 29, 2017
Sensum, the emotions company, has announced the planned release of a new kind of virtual reality experience in which the viewer can follow the emotions of an extreme sports athlete as they journey down a mountain bike trail with them. Sensum worked in partnership with Red Bull Media House to research what the future of enhanced media experiences could be like.
Sensum has been helping Red Bull Media House to explore innovative new ways to connect the emotions of Red Bull 'Heroes' with their audiences across various media channels. For The Hero Feeling, Sensum placed biometric sensors on the expert mountain bike riders to gather real-time data on their physiological changes as they rode an extreme downhill trail in Ireland, at the location of the legendary Red Bull 'Fox Hunt'. A specialist production team from Red Bull Media House used custom-built spherical camera lenses to record 360º video from each rider's first-person perspective.
The Hero Feeling includes interactive features that allow the viewer to select between different riders, trails and types of runs, for a range of what Sensum calls 'bio-emotional' media experiences. Biometric and contextual data was synchronised in real-time, both from the riders' bodies and the environment around them, and this data was feed into graphics that show the rider's emotional state on a second-by-second basis. Seeing how the rider feels brings the audience closer to the thrill of being a world-class mountain biker.
To achieve this new kind of immersive media experience Sensum developed an Android app for triggering and recording the multiple data streams from GoPro cameras, microphones and biometric devices, and an Adobe plugin to call the processed data from the cloud, to produce the content. These are called the 'Sync' tools and we are announcing Alpha signups from today, for those who are interested in creating content for the future of entertainment. Whether it's for HD, 360 video or VR content interested creatives can sign up for access on the Sensum website.
Sensum has developed expertise in measuring emotions and using the data from biometric wearables and mobile technology to tell more immersive stories. Sensum has built patent-pending Emotion AI analysis tools that can derive emotions not just by measuring a person's physiological changes but also from changes in contextual data that can be gathered from a wide range of sensors and devices. In 2011, Sensum produced the world's first emotional response horror film and has since collaborated with brands that include Unilever, Jaguar and BBC to combine emotion sensing technology with media production and storytelling.
Gawain Morrison, CEO & Co-Founder, Sensum comments: 'We believe we have created a new form of interactive entertainment, bringing audiences closer to the true feelings of the hero at the centre of each story. Emotion has always been the key driver of any story or experience but now for the first time technology allows us to measure emotional response in real time and connect audiences directly to it'.
Andreas Gall, Chief Innovation Officer, Red Bull Media House, said: 'Red Bull is renowned for pushing the boundaries of what's possible and giving wings to new and innovative ideas, so making use of Sensum's Emotion AI Toolkit was a no-brainer for us. It's played a key development role in some of our latest projects, such as harnessing biometric data to create emotionally engaging content and virtual reality experiences'.
Details of where and when The Hero Feeling will be launched to the public currently remain secret but journalists and other interested parties are invited to apply for early access to the VR experience. Please visit www.sensum.co for more info or contact Sensum at: [email protected] / +44 (0) 28 9066 0629.