Paula McIntyre's Hamely Kitchen Returns
---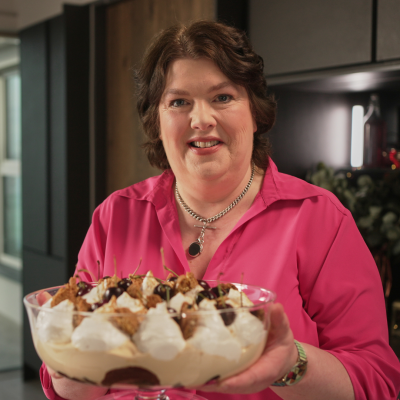 Date Posted: November 13, 2023
Paula McIntyre's Hamely Kitchen
Returns Friday 24 November 
BBC iPlayer and BBC One Northern Ireland, 7.30pm
Chef Paula McIntyre is back for series three of Hamely Kitchen beginning on Friday 24 November, BBC One Northern Ireland and BBC iPlayer at 7.30pm. 
Paula McIntyre's Hamely Kitchen is a Clean Slate Television Production for BBC Northern Ireland, with assistance from the Ulster-Scots Broadcast Fund.
In this four-part series, Paula once again celebrates local produce and cooks up more mouth-watering traditional recipes with a modern twist.
These include Paula's version of Cullen Skink Soup. She uses hot smoked haddock in her recipe and serves it with homemade soda bread with scallions and cheese from the Sperrins. 
Other savoury dishes throughout the series include a healthier version of one of Northern Ireland's best-loved snacks: the sausage roll. And as no sausage roll is complete without ketchup, Paula will be making one with locally-grown carrots. 
She will also be showing viewers her fool-proof method for cooking the perfect pork chop with a side of smokie prootas. 
And, as Paula has long been a fan of Beef Olives, she is putting an Ulster-Scots twist on this traditional dish by stuffing it with skirlie (oat and sausage meat) which takes its name from the noise the oats make while frying.
For those with a sweet tooth, Paula is offering a mouth-watering array of puddings. Anyone of a certain age from Northern Ireland will remember the lemonade man calling to the door. Paula will be using an Ulster invention – brown lemonade – to add fizz to a cake which she assures us is made for the individual, but would probably feed an entire family. 
There is a show-stopper of a trifle inspired by another Ulster staple: the Fifteen traybake. Paula takes all the ingredients of a Fifteen; coconut, cherries, marshmallow and biscuit and transforms it (with the help of a toot of whisky) into a Typsy Laird Trifle. There is also a Baked Apple with caramel grummle. Grummle is Ulster-Scots for crumble. And an Ecclefechan Tart, whose name is inspired by a small village in Dumfries and Galloway.
New to this series in each episode, Paula is taking her BBQ to a number of stunning locations around Northern Ireland to show some young people from the Ulster-Scots community how to make her version of street food dishes. In episode one, Paula heads to Cushendun Beach to BBQ pork shoulder in a soordook bap with two fiddle players. 
In episode two, Paula meets two young farmers in the grounds of Glenarm Castle. Can she persuade them to substitute their favourite takeaway for some homemade chicken skewers? 
And in episode three Paula is in Hanna's Close, in Kilkeel, where she shows two radio presenters from Fuse FM, the Ulster-Scots radio station, how to make fish and potato bread chips. 
In the final episode, Paula heads to Bready, outside Strabane, where she cooks lamb and flatbreads with a Highland dance teacher and her father.
As Paula says: "In my book, a Hamely Kitchen is where you celebrate our culinary traditions and extend a hearty welcome to family and friends. What could be more hamely than that?"