Northern Ireland Screen supported CleanSheet keeping goalies ahead of the game
---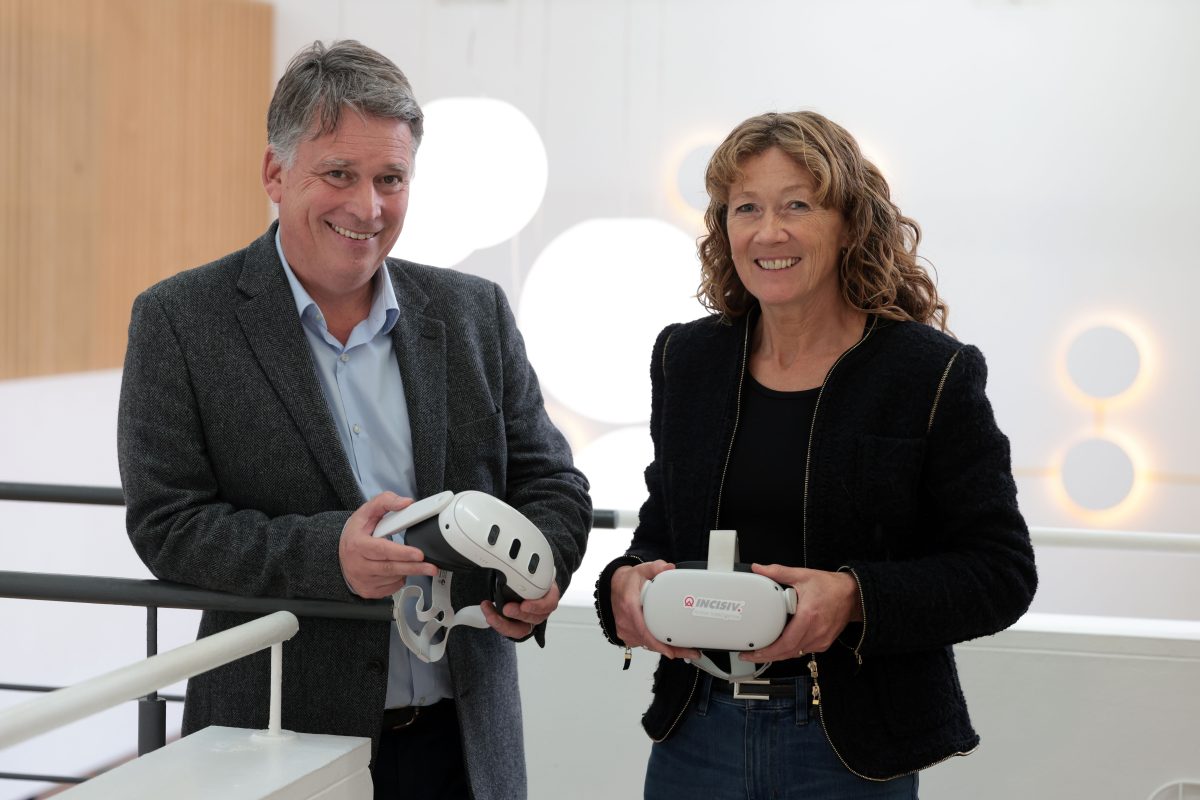 Date Posted: November 13, 2023
Fancy becoming the next Pat Jennings and testing your goalkeeping skills in a breathtaking stadium – without getting your clothes dirty? Professor Cathy Craig from Ulster University can make this a reality – or at least a virtual reality – for you.
The experimental psychology expert is also CEO and co-founder of INCISIV – the brains behind CleanSheet, a VR goalkeeping game that has just been launched on the Meta Quest store. It's the culmination of a project the sports-mad academic has been working on for decades.
"Around 25 years ago I had a simple question I wanted to answer – how do goalkeepers make decisions about when and how to move so they can pull off a match-winning save?" she said.
"Back then, David Beckham was making a name for himself through his ability to bend the ball, and Brazilian star Roberto Carlos was doing those crazy free kicks.
"It left me wondering what it meant for the goalkeeper – was it more difficult to judge where the ball is going to go when it bends and swerves on its way to the goal?
"I needed a technology to allow me to recreate the viewpoint of the goalkeeper – and that's the beauty of VR.
"You take on that 'first person' perspective in the game, and you're able to recreate it as if you're in that position yourself."
Co Antrim native Cathy, who founded neuro-technology start-up INCISIV with her Swiss husband Dr Adrien Kissenpfennig five years ago (it was voted the second most innovative sports tech company in the UK by Business Cloud in 2021), said she was pleased with the initial sales of CleanSheet.
The game has also been praised by users for, among other things, the way the virtual players move during set pieces, where shots come at the 'keeper' from all speeds and angles.
Apart from a fun pastime that appeals to budding keepers and others, there's also a professional version of this immersive technology which is being used by Belgian side Royale Union Saint-Gilloise (RUSG).
Exciting times, and all because of Edinburgh Uni graduate Cathy's passion for virtual reality, which began while she was doing a post doctorate project at the University of Aix-Marseille in France.
"That's when I first started doing the goalkeeper stuff; I worked on a collaborative project with Adidas, who were developing their Predator boots and wanted to analyse the degree of curve that could be put on a ball," she said.
"I also visited the AC Milan football team in 2003, met world class players like Kaka, Shevchenko, Rui Costa, Maldini… and I credit the club with giving me insight into high-level performance. They were ahead of the game."
Originally from Joey Dunlop's home village of Armoy in the Glens of Antrim, Belfast-based Cathy – a second cousin of Ulster and Ireland rugby legend Willie John McBride and a keen rugger and hockey player herself – has always been obsessed with sport.
"I was especially interested in the decision-making part – why does someone do what they on a pitch?" said Cathy, who was actually the first academic in the world to use VR to study decision-making in sport.
"There was also that desire, maybe, to improve my own game. I wanted to know more so I could be a better player."
On her return to Northern Ireland in 2005, she got a job at Queen's University and received an European Research Council (ERC) grant in 2008, allowing her to dedicate five years to researching human movement performance.
She then took her technology to market via INCISIV, with funding support from Northern Ireland Screen.
"Northern Ireland Screen realised that in order to develop and create these tools and technologies you need to develop a rich skill base, which is what they did with film," she said.
"They run schemes, including the Interactive Study Work placement programme, that allowed us to recruit talented students whose artwork of famous Belfast landmarks is showcased in our game.
Cathy and Adrien's only child, Eva (19), actually features in the CleanSheet trailer which launched on the same day as Meta's new Quest 3 virtual reality headset.
"We improved CleanSheet to meet the quality threshold to get onto the Meta Quest Store," she said.
"I'm proud of what the team achieved during these last months to make the game what it is today."
Richard Williams, Chief Executive of Northern Ireland Screen, said it was exciting times for the start-up. "INCISIV is one of the trailblazing companies we've helped to fund," he said.
"Cathy and the team have innovation and agility at the heart of their business and are honing their skills and expertise locally and competing in global markets, engaging and supporting gamers across the world."
There is, however, a more serious side to Cathy's work; her analysis of the impact of concussion on the brain. This work has seen her liaise with sport and medical experts across Europe.
"Every brain injury is different, and the analysis of its impact has always been very subjective," she said.
"The brain fitness data we can capture using VR technology helps medical teams make better decisions about when a player is ready to return to play".
Currently working with all 10 teams in the UK Elite Ice Hockey league and the Italian Rugby Federation, INCISIV is also exploring ways of helping people with Parkinson's disease.
For Cathy, it has always been more than just a game.