Gairm le Gaeilge
---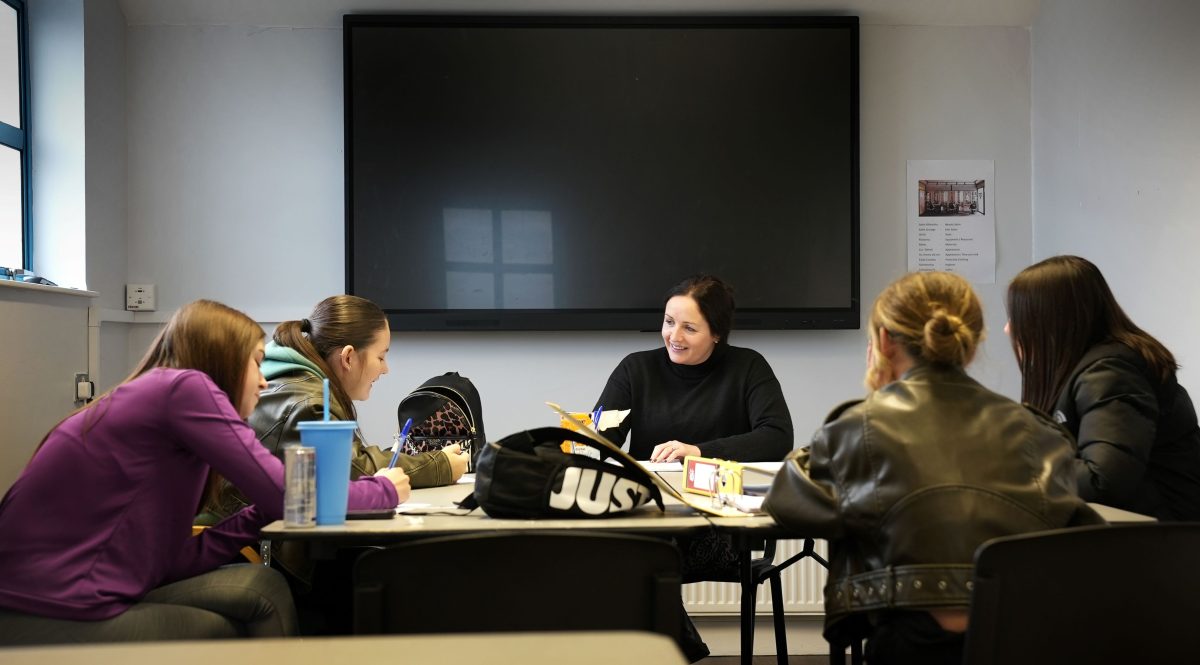 Date Posted: November 3, 2023
Gairm le Gaeilge
Monday 6 November
BBC iPlayer & BBC Two Northern Ireland, 10pm
BBC Gaeilge's two-part series, Gairm le Gaeilge, is supported by Northern Ireland Screen's Irish Language Broadcast Fund.
Thousands of students have had the opportunity to learn the skills they need for their dream job by studying  at Gael Chúrsaí.
The technical college in Belfast city centre provides a range of courses for students taught through the Irish language since it opened more than a decade ago. Colma Mhic Aoidh founded Gael Chúrsaí in 2011 to provide the Irish speaking community with a place to further their education through Irish– the only such place in Northern Ireland to do so.
A new two-part series, Gairm le Gaeilge, made for BBC Gaeilge by TripleVision Productions, with support from Northern Ireland Screen's Irish Language Broadcast Fund, follows life at the college.
With access to the students, employers and tutors, the series tracks the journeys of some of those young people enrolled in courses including media, childcare and catering. The aim of the college is to show students that the Irish language is part of their community, not just a subject in school, and that they can continue to learn and go on to work using Irish.
It's an important year for Gael Chúrsaí. There are new staff and new premises to get ready. Colma and her team are expecting more students this year so she's had to find a bigger building and as well as teaching classes, the teaching staff are having to work hard to get it ready in time for the new term.
It's an important term for the students as they get to find out what it's like to put their skills to the test in the outside world on work placements.
The observational documentary also follows the staff as they look for the next generation of students to continue their studies with them. It's competitive with a lot of choices for young people but the success of the college depends on getting new students to enrol.
Gairm le Gaeilge starts on Monday 6 November at 10pm on BBC iPlayer and BBC Two Northern Ireland with both episodes available on BBC iPlayer from Monday 6 November.
Gairm le Gaeilge 
Dé Luain, 6ú Samhain
BBC iPlayer & BBC Two Northern Ireland, 10i.n.
Gairm le Gaeilge, sraith úr dhá chlár BBC Gaeilge le tacaíocht ón Chiste Craoltóireachta Gaeilge.
Tá deis faighte ag na mílte mac léinn na scileanna atá de dhíth orthu don phost aislingeach a fhoghlaim trí staidéar a dhéanamh ag Gael Chúrsaí.
Cuireann an coláiste teicniúil i lár chathair Bhéal Feirste raon cúrsaí ar fáil do mhic léinn a mhúintear trí mheán na Gaeilge ó osclaíodh é breis is deich mbliana ó shin. Bhunaigh Colma Mhic Aoidh Gael Chúrsaí i 2011 chun áit a chur ar fáil do phobal na Gaeilge chun a gcuid oideachais trí Ghaeilge a chur chun cinn i ndiaidh na meánscoile – an t-aon áit i dTuaisceart Éireann a dhéantar seo.
Is sraith dhá chlár é Gairm le Gaeilge a rinne TripleVision Productions do BBC Gaeilge, le tacaíocht ó Chiste Craoltóireachta Gaeilge Scáileáin Thuaisceart Éireann, a leanann saol na macléinn ag an choláiste.
Le rochtain ag mic léinn, fostóirí agus teagascóirí, leanann an tsraith roinnt de na daoine óga sin atá cláraithe ar chúrsaí lena n-áirítear na meáin, cúram leanaí agus lónadóireacht. Tá sé mar aidhm ag an choláiste a thaispeáint do mhic léinn gur cuid bheo dá bpobal í an Ghaeilge, ní hamháin ábhar ar scoil, agus gur féidir leo leanstan ar aghaidh ag foghlaim agus ag obair trí mheán na Gaeilge.
Bliain thábhachtach í do Ghael Chúrsaí. Tá foireann nua agus áitribh nua le hullmhú. Tá Colma agus an fhoireann ag súil le níos mó mac léinn i mbliana agus mar sin bhí uirthi foirgneamh níos mó a aimsiú agus chomh maith le ranganna a mhúineadh, caithfidh an fhoireann obair go dian chun é a ullmhú in am don téarma nua.
Téarma tábhachtach atá ann do na mic léinn agus iad ag fáil amach cad é mar atá sé a gcuid scileanna a chur chun trialach sa domhan lasmuigh ar shocrúcháin oibre.
Leanann an clár faisnéise breathnadóireachta na baill foirne freisin agus iad ag lorg an chéad ghlúin eile de mhic léinn chun leanstan lena gcuid staidéir. Tá sé iomaíoch le go leor roghanna do dhaoine óga ach braitheann rath an choláiste ar mhic léinn nua a chlárú.
Beidh Gairm le Gaeilge ag tosú Dé Luain an 6ú Samhain ag 10.i.n. ar BBC iPlayer agus BBC Two Northern Ireland agus beidh an dá chlár ar fáil ar an BBC iPlayer ón Luain 6ú Samhain.