14TH BELFAST MEDIA FESTIVAL UNVEILS IMPRESSIVE LINE-UP FOR NEXT WEEK'S TWO-DAY FESTIVAL 
---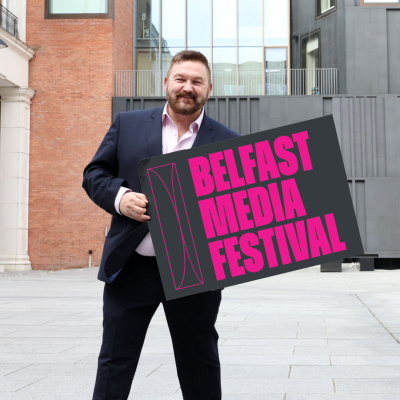 Date Posted: November 8, 2023
More than 1500 people are expected to descend on The Mac Belfast next week for the opening of the 14th Belfast Media Festival (BMF) entitled 'A City in Motion' which starts on Wednesday 15 November at 10am with host William Crawley and runs until Thursday 16 November.
A jam-packed schedule of 36 sessions covering all aspects of the industry from TV commissioning to gaming and filmmaking to podcasts was unveiled by the BMF committee today with workshops, skills training, panel discussions and keynote speeches by leading lights of the industry. Highlights include:
Wednesday 15 November
Channel 4's Chief Content Officer Ian Katzlooks to the future in conversation with Shaminder Nahal to discuss the current challenges facing the UK's most provocative public service broadcaster. (10am – 11am)
TV presenter Sarah Greene, host of The Finish Line joins Adam Adler and Martin Scott (The Chase, MoneyBall and The Cube) to talk to Kathy Clugston about creating an enduring TV quiz. (12 noon – 1pm)
BAFTA Games presents Bridging Worlds from Television to Games with Ripstone – The Liverpool based publisher shares their experience of working with Netflix to bring The Queen's Gambit to life as a game. (2pm – 3pm)
The flagshipRTS NI Dan Gilbert Lecture this year features Charlotte Moore, Chief Content Officer for BBC. (3.45pm – 4.45pm)
Thursday 16 November
When Diversity Meets Creativity –Lata Sharma talks to panelists Paula Campbell (CINE, Northern Ireland Screen), Emma Patterson-Bennett (BBC NI) Gavin Halpin (Paper Owl Films) and Gerard Stratton (Triplevision Productions) about the local sector's role in helping to create positive change. (10am – 11am)  
Podcasts: Uncovering the Truth– Author, filmmaker and journalist Jon Ronson is joined by Nicoline Greer, Andy Martin and Dylan Haskins to explore podcasts' power to unearth hidden stories and challenge conventional narratives. Chaired by Kathy Clugston.  (10am – 11am)
NÍ BAC ACH BUA / The Rise of Irish Language Drama –After the global success of 'An Cailín Ciúin' Máire Bhreathnach discusses the new found appreciation of Irish language with TG4's Alan Esslemont, Danu Media's Siobhán Ní Ghadhra and Damian McCann, Writer and Director. (11.30am – 12.30pm)
Blue Lights – Under the Bonnetof the Hit Drama – A masterclass with the creators of the BBC hit drama as they share behind-the-scenes secrets from filming of Series 2 and discuss the highs and lows of making a gripping and authentic network drama in Belfast. (11.45am – 12.45pm)
Film Makers Panel – The Green Wave – Kathryn Ferguson, director of 'Nothing Compares,' Ross White, co-writer and co-director of the Oscar-winning 'An Irish Goodbye' and Stacey Gregg writer 'Ballywalter'discuss the global resonance of stories from this region with Sara Gunn-Smith. (3pm – 4pm)
The Magical World of Disney+ EMEA– Meet the visionary commissioners behind some of the most beloved and iconic content on the streaming platform including Lee Mason, Sean Doyle, Johnny Richards and Hannah Scott in conversation with Channel 4's Maeve McLoughlin. (4.30pm – 5.30pm)
Plus sessions on staying local in a digital world, BBC Network comedy, Production Unlocked, ScreenSkills training, Composing for screen, Generative A1 in the creative industries, BBC & TikTok and the return of BBC's Two-Minute Masterpiece and much more.
BMF host William Crawley said: "This year's BMF promises to be a celebration of all screen-based media with high profile speakers from across film, TV and gaming aiming to excite, refresh and inspire attendees at all levels in their careers. It's lovely to have the opportunity to talk to more leading lights from our industry in person and to meet our future generation of storytellers."
The BMF is grateful to the support of its long running partners BBC Northern Ireland and Northern Ireland Screen along with many other industry sponsors and supporters who help to ensure the event remains free for attendees including: Afro Mic Productions, Balloo Hire, BAFTA, BECTU, Below the Radar, Big Mountain Productions, Channel 4, Creative Skillset/Screenskills, Cineflix Rights, Disney+EMEA, Doubleband Films, Element Pictures, Film Hub NI, Film TV Charity, Gallagher Films, Hastings Hotels, Hat Trick and Hindsight Productions, Nice One Productions, PACT, Paper Owl Films, Potato TV, Production Unlocked, Rare TV, RTÉ, RTS NI, Sabry Business Affairs, Stellify Media, Strident Media, Two Cities, TG4, Tyrone Productions, Waddell Media, The Writers Guild Of Great Britain and The Ulster Screen Academy.
This year's BMF Committee comprises Jennifer Johnston, Chair from Northern Ireland Screen; Mary McKeagney, BBC NI; Bridin Ni Mhaoldomhnaig, Rory Clifford and Heidi McAlpin, Northern Ireland Screen; Gavin Halpin, Paper Owl Films; Kevin Beimers, Italic Pig; Mary Johnston, Doubleband Films; Sara Gunn-Smith, Film Hub NI and Vikkie Taggart, Stellify Media.
For FREE Registration and to see the full schedule of events go to www.belfastmediafestival.co.uk