'Blue Lights' goes green – How upcoming BBC One Drama earned 2-star Albert certification
---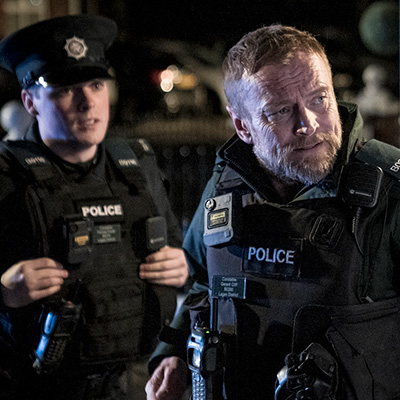 Date Posted: December 8, 2022
BLUE LIGHTS is a 6 x 60-minute procedural drama produced by Two Cities Television and Gallagher Films for BBC One and iPlayer, with funding from Northern Ireland Screen. Created and written by Declan Lawn and Adam Patterson, with guest writer Francesca Harris, the series follows three rookie police officers working in Belfast, a uniquely dangerous place to be a cop.
The pressure on each new recruit is immense, particularly because everyday brings a series of life-or-death challenges. Often they don't know the true extent of the peril they are in, or who they can trust. They'll have to learn fast against the backdrop of contemporary Belfast, an extraordinary city where ancient religious and political division sits alongside rapid gentrification and brash new money. It's a place where crime, conflict and commerce intertwine, and where nothing is quite as it seems. Policing in Belfast is not like policing anywhere else.
Stephen Wright, Executive Producer of Two Cities TV said: "This is a Belfast we've never seen before on our TV screens. The project was greenlit before COVID, and although the major lockdowns had been lifted, the pandemic was still impacting our current climate. We worked remotely as much as possible and had to rethink our production processes to ensure filming on location was safe for all cast and crew".
To keep the team on target, the Producers decided to use BAFTA's Albert calculator to determine their predicted carbon footprint and develop an action plan for prep, production, post, and right up until delivery to the BBC. This motivated the team to embed the best possible environmental principles and practices, and work to make BLUE LIGHTS a sustainable production.
After the production team measured an estimated impact, they went through a certification process and implemented a range of sustainable production techniques to help reduce carbon emissions where possible and offset where it was not possible.
The team created a Green Memo and issued this to the entire cast and crew, underlining BLUE LIGHTS' intentions to be an Albert certified production and how everyone was going to collectively achieve that "from the commissioning stage right through to delivery". Some members attended training and were able to actively contribute to the production's pledge for the planet.
It was calculated that that the majority of BLUE LIGHTS' carbon footprint would be produced from 'filming spaces' such as location power, electricity and/or generators; and 'materials' such as set construction, single use items, catering meals, and production office consumables. However, the team celebrated the fact that they produced such a small amount of CO2 emissions from travel and transport, accommodation, and landfill disposal.
Executive Producer, Louise Gallagher, of Gallagher Films commented: "Blue Lights was created by two companies based in Northern Ireland, and it was developed, commissioned, and filmed here, with a large amount of the principal cast and leading creatives from here as well. The story is also set in Belfast and features Belfast characters. Therefore, it has also allowed Belfast cast and crew to be based at home, helping to reduce our negative impact on the environment and encouraging us to think more proactively about engaging with positive green goals".
BLUE LIGHTS Green Memo included department specific goals such as:
Production, Accounts & Assistant Directors – Consider trains over planes for long distance nationwide travel, and use eco-branded paper where possible.
Art Department, Props & Construction – Send old ink cartridges to production to be recycled, and recycle, reuse, or simply borrow materials and scenery where practical.
Camera, Grip & Sound – Use rechargeable batteries where possible and send disposable batteries to production to be recycled.
Costume and Make Up – Use reusable towels instead of disposable wipes and limit aerosols by using refillable spray bottles where possible.
Electrical – Switch off lighting where possible and consider other conservation measures, such as use of LED lights.
Locations – Maximise recycling and minimise wastage, and use local power instead of generators.
Facilities and Transport – Use low emission vehicles as a priority and adopt a 'no idling policy' for vehicles not to be left running.
Cast – Don't leave lights and heaters on when not in trailers and travel by train instead of cars, where possible.
Catering – Use China and/or metal crockery where possible, and biodegradable containers and utensils in any other case.
Executive Producer, Louise Gallagher, continued: "The Albert initiative helped to give our teams the knowledge and opportunities to take action, consider the welfare of our wildlife and natural world, and reduce the size of our collective footprint. This even influenced specific traits for some of our characters, by promoting the use of reusable water bottles and coffee cups, bamboo food containers, and even inspiring home cooking ideas and recipes".
Writers and Executive Producers, Declan Lawn and Adam Patterson, reflected: "Belfast is a city in which the urban environment sits side by side with the natural world of sea and mountains and countryside. We wanted to reflect that unique aspect of Belfast in how the story is told, and how the show looks, because living and working in this special city is a daily reminder that our lives and wellbeing are dependent on things outside ourselves that need to be protected. We're very proud that Blue Lights has gained two-star Albert certification, and that our work in making this show has not impacted negatively on this place (and this planet) we all call home. We're delighted that Blue Lights has gone green!"
Executive Producer, Stephen Wright, concluded: "We have worked hard to earn Albert certification to showcase our efforts in tackling climate change. However, we all had a role to play in ensuring our production: minimised waste; reduced CO2 emissions through unnecessary travel and transport; adopted clever catering plans; considered use of equipment, kit, and dispensable consumables; and promoted paperless and digital communication. Ultimately, we want to tell a story that creates conversation".
Two Cities TV and Gallagher Films are delighted to have earned a rating of 2 out of 3 stars and a final certification score of 79% for their carbon action plan. They have offset where they couldn't reduce their carbon footprint through Albert's creative offset scheme partner, Ecologi, by contributing to a Rainforest conservation project in Brazil.
The BLUE LIGHTS team demonstrate that by working together to reduce negative impact, the scale of reduction is bigger and better and that every individual and department have a responsibility to try and produce positive change.
To find out more about BLUE LIGHTS' efforts to be sustainable visit We Are Albert or read about the conservation project at https://ecologi.com/projects/rainforest-conservation-brazil.